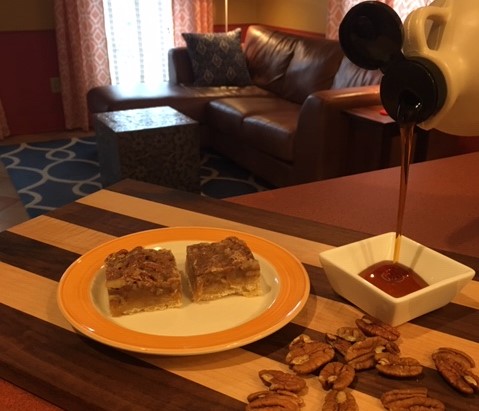 The sun is finally shining again and the temperature is slowly rising, it's Spring in Saugatuck! To celebrate, we treat our guests to these delicious Maple Pecan Bars. Michigan ranks 8th in maple syrup production and there are lots of spots to purchase this first crop of the season.
Maple Pecan Bars
CRUST
1 cup flour
1/2 cup sugar
1 stick butter, cold and diced up
Put flour, sugar and butter in a food processor and pulse until fine crumbs
Press into foil lined 8X8 pan and bake at 350 for 15 minutes. Crust will be soft and pale.
FILLING
6 tablespoons butter
3/4 cup brown sugar
1/4 cup maple syrup
1 1/2 tablespoons milk
1 1/2 cups pecans
1/4 teaspoon sea salt
While your crust is baking combine butter, sugar, syrup and milk in a medium saucepan. Bring to a simmer and cook for 1 minute, stirring occasionally. Stir in pecans and pour filling evenly over hot crust. Bake for an additional 18-20 minutes. Mixture will be bubbling and will thicken as it cools. Remove from oven and sprinkle with salt. Cool completely before cutting. I usually refrigerate overnight.